Manipulative posts are being shared on social networks, trying to show that the war in Ukraine did not affect the global increase in food and oil prices.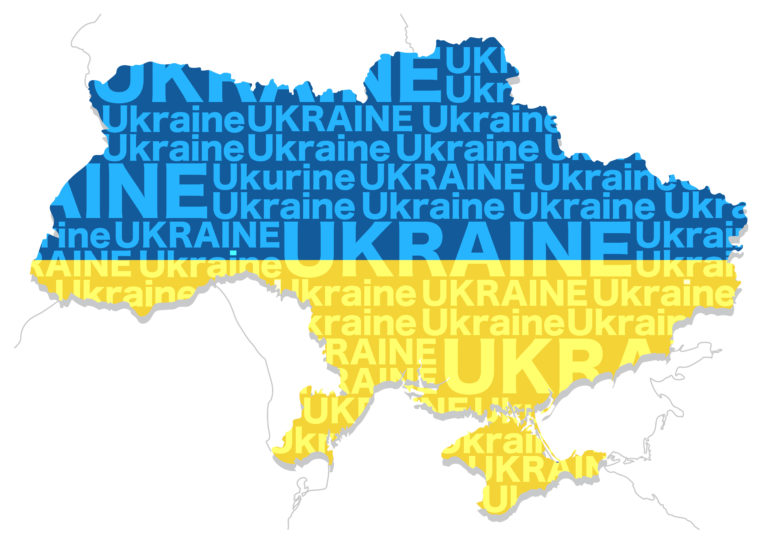 On May 18, a picture of a world map with Ukraine colored in red was published on Edi Bucic's Facebook profile, along with the following text:
You see this red, almost a dot. That's Ukraine. And now there is a war in one corner of that country. And because of that corner of the country, there is no oil or flour in the world, and they announce a shortage of everything. Can you believe this is it??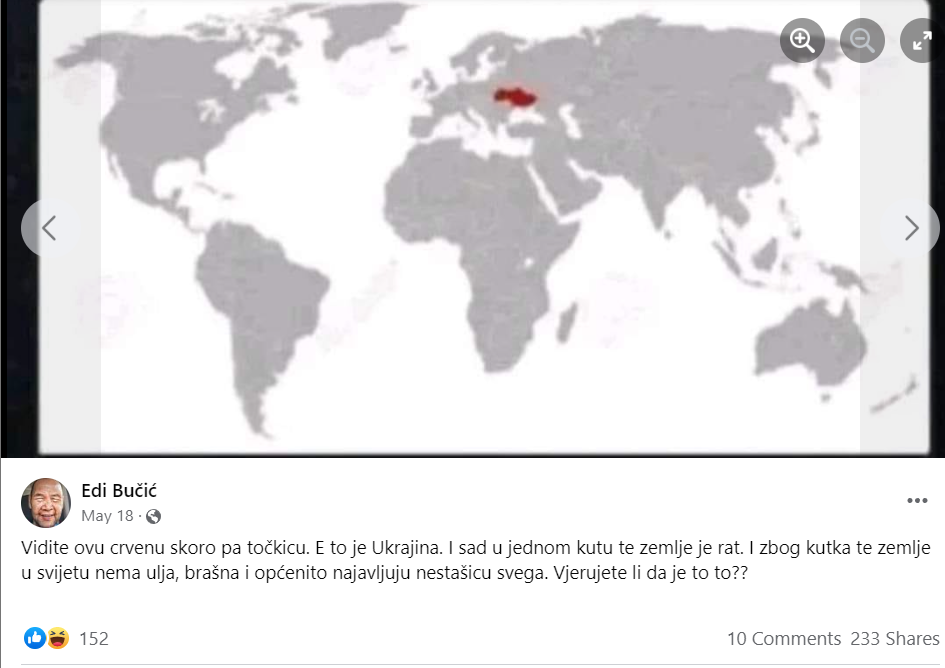 We found the same post, or a screenshot of this post, on 118 public Facebook profiles and pages.
On June 2, a similar text in the form of a screenshot was published on the Facebook profile of Darko Bozidar Srebacic:
This is Ukraine on the world map. Now big-minded politicians and corporate owners are telling you that there is a shortage of everything in the world (food, cables, oil, etc…) because there is a war!!!!! It's an amazing fact how easy it is to turn a man into an idiot in the 21st century!!!! Until the outbreak of the conflict, 99% of EU residents did not even know what kind of country it was. Now it turns out that the entire world industry depends on it!!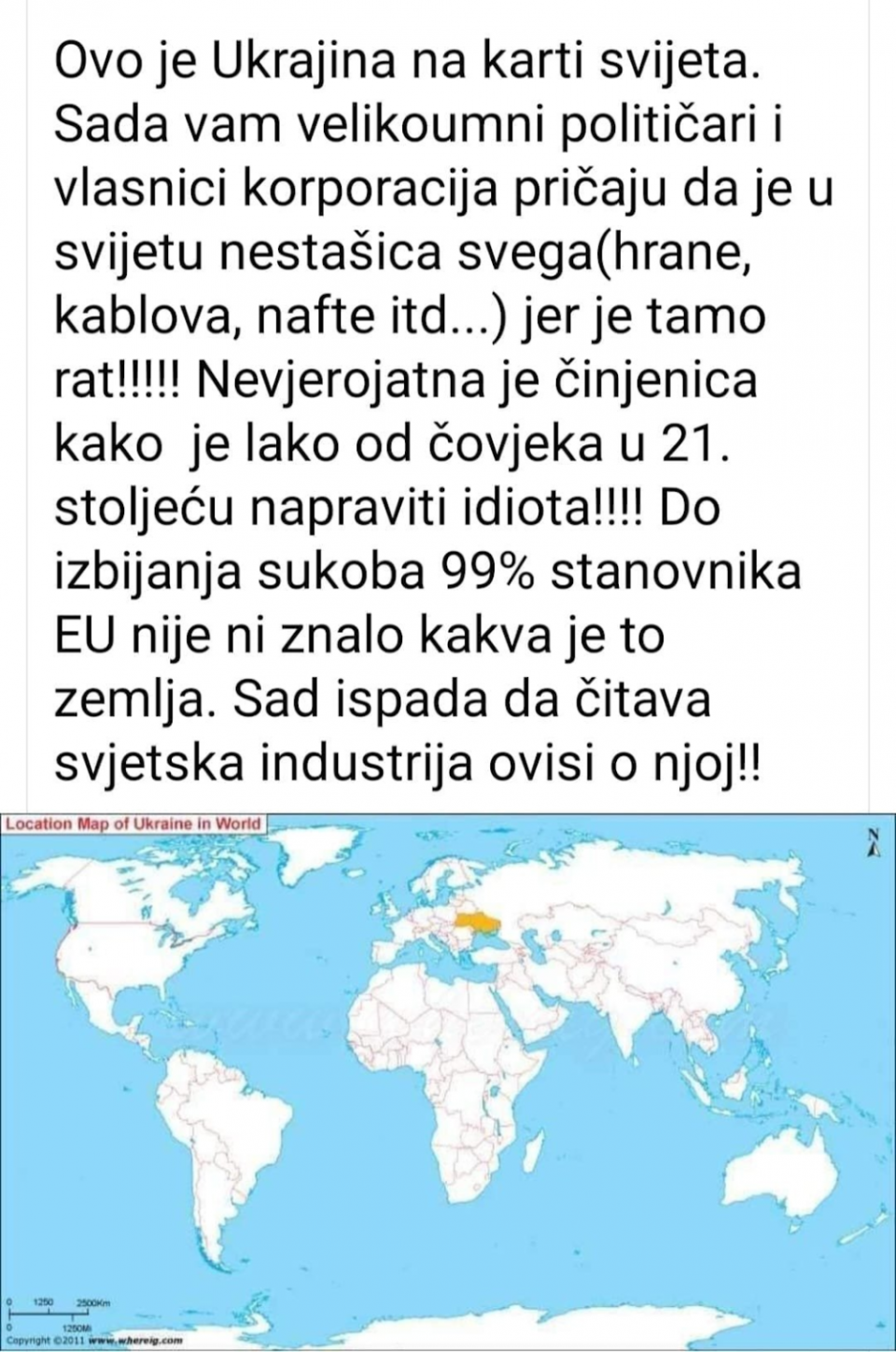 The same screenshot was published on more than 120 public Facebook profiles and pages.
Why does the war in Ukraine affect the rise in prices in the food and energy sectors?
The map of Ukraine, along with disinformation text attempting to downplay the impact of the war in Ukraine on global price increases in the food and energy sectors, was initially distributed in English-speaking countries.
British fact-checking web portal FullFact wrote about this in an analysis published on June 7, in which they looked at an Instagram post that said: "Think about this for a minute. They want you to believe that because of this little red dot (Ukraine) we have a global shortage of oil, gas, paper, milk, grain and other raw materials. Hmmm, sure". As FullFact explains, product prices began to rise before Russia's aggression against Ukraine on February 24, but this war certainly impacted their further growth.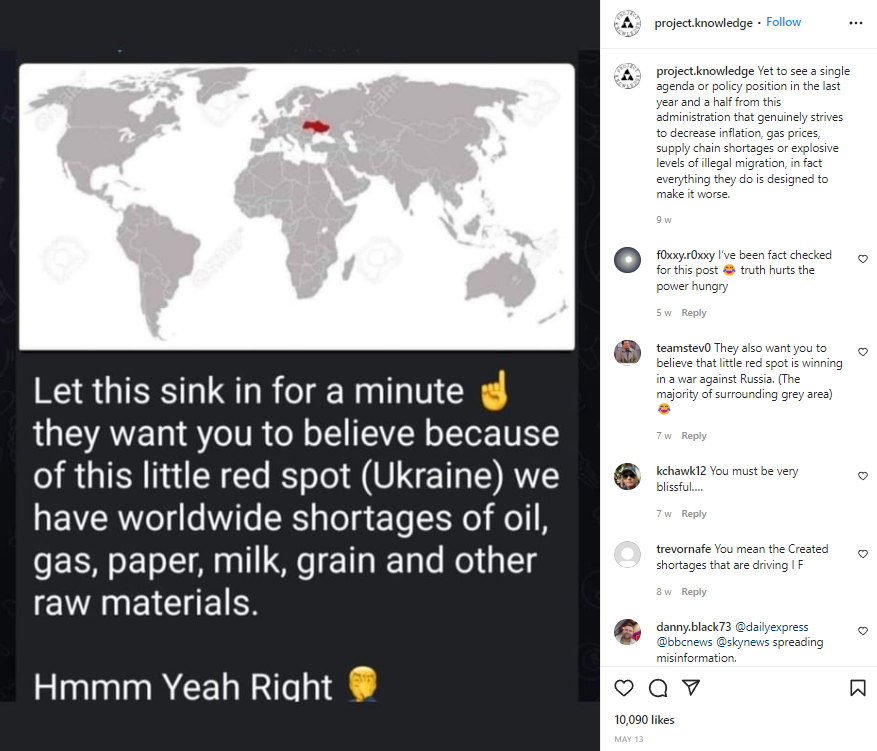 First of all, this war affects the export of goods from Ukraine, considering that most of these goods are exported by ships, and the main ports of Ukraine on the Black Sea are under blockade. Because of this, less wheat can leave the country, causing prices to rise, as Euronews wrote about in more detail.
On the other hand, Russia is unable to export its products due to heavy sanctions, according to FullFact:
The war in Ukraine is expected to have a significant impact on the supply of some of the products mentioned in the announcement. For example, Ukraine and Russia together deliver about 30% of the world's wheat production and 20% of corn to global markets (i.e., for export), and also contribute a significant share of the global supply of other grains, such as barley. Russia, Ukraine and Belarus, which has also been sanctioned for supporting the Russian invasion, are also major suppliers of fertilizers used by farmers around the world.
The Conversation also wrote about this in an article from April 12. As they state, Ukraine alone produces an incredible 6% of the total food calories traded on the international market. We can see this in the table below, which shows the export of wheat in 2018, where Russia ranked first and Ukraine ranked fifth in terms of exports.
Given that the export of wheat is difficult for Ukraine due to blockades and for Russia due to sanctions, prices on the market are rising.
FullFact states that, in addition to the increase in food prices, this war also leads to difficult oil and gas exports.
The war is also exacerbating existing fuel supply problems. Many countries, especially those in Europe that have relied heavily on imports of Russian oil and gas as fuel, are currently cutting themselves off from this source of supply. Bans on the import of Russian oil led to an increase in oil prices, even though these prices had already been rising before the start of the war. Meanwhile, demand for liquefied natural gas is expected to outpace supply as the world moves away from Russian gas imports, according to Credit Suisse.
FullFact also emphasizes that the war in Ukraine is not entirely responsible for the increase in oil and fuel prices.
Disruption of global supply chains has been evident since the summer of 2021. This disruption began as a result of a combination of factors, including the Covid-19 pandemic, increased demand, labor shortages and poor harvests, but was further exacerbated by war. These problems affected a number of different industries, including, according to The Post, milk production and paper printing.

Warnings of an energy crisis have also been circulating since last year, and the International Energy Agency (IEA) in November pointed to a number of factors, including insufficient investment in the energy sector and increased global demand after the pandemic. IEA Executive Director Fatih Birol then said that the world faced the "first global energy crisis" after the Russian invasion of Ukraine.
Despite this, the impact of the war on oil and gas prices is visible. Currently, 40% of oil imports and 27% of gas imports into the European Union come from Russia. As the EU countries try to separate themselves from Russian energy sources and supply them from other countries, oil and gas prices started to rise due to higher demand elsewhere, as the BBC wrote about in more detail.
So, Ukraine is not "almost a dot" on the world map. According to Worldometers data, Ukraine ranks 45th out of a total of 234 countries in the world by area and has a significant impact on the global economy.
Accordingly, we assess publications implying that the war in Ukraine is not connected with the global increase in food and oil prices as manipulation of facts.
(Author: Amina Čeliković, Raskrinkavanje.ba)