Esmeralda Topi
From 1st May to 30rd September, all Russians coming to Albania for tourism purposes do not need a visa. The government decided to facilitate the procedures for tourist season when Russia is applying a strict visa regime for Albania. Ukrainian President Volodymyr Zelensky asked Albania to ban Russian tourists, however the Albanian government does not intend to do so. 100 thousand Russian tourists have visited Albania in the last five years, and Albanian tour operators say that this is a negligible figure.
———————–
Albania facilitated the entry procedures for foreign nationals on the eve of summer tourist season opening. On 20 April, Council of Ministers approved a decision allowing visa-free entry into Albania for citizens of eight different countries, including Russia. According to the decision, Russian citizens are allowed to enter our country without a visa from 1st of May until 30 September.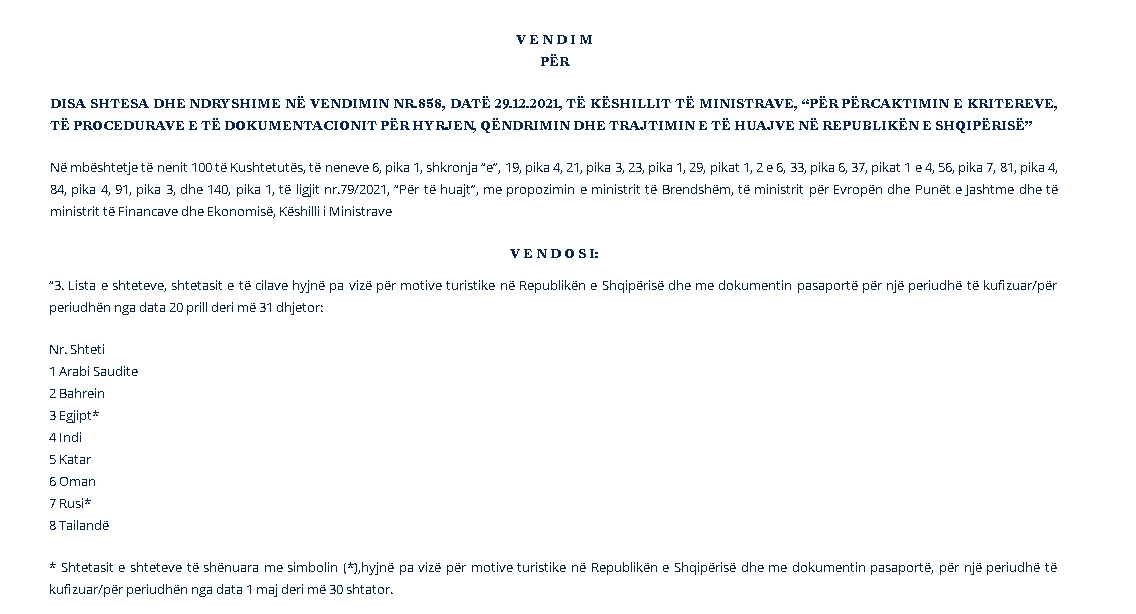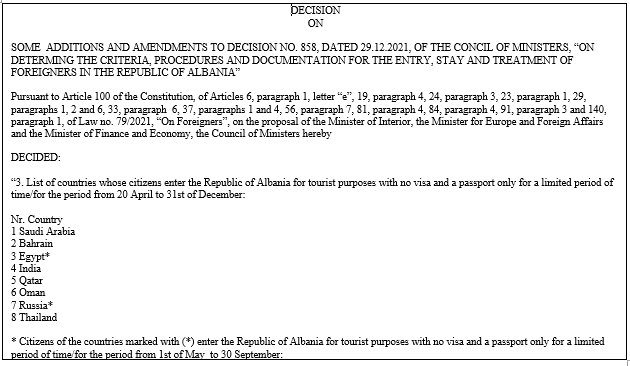 Five days later, during the "Albania welcomes the world" press conference, Prime Minister Edi Rama was asked by journalists if such decision should be reviewed for Russia, but he answered briefly: No, I don't think so.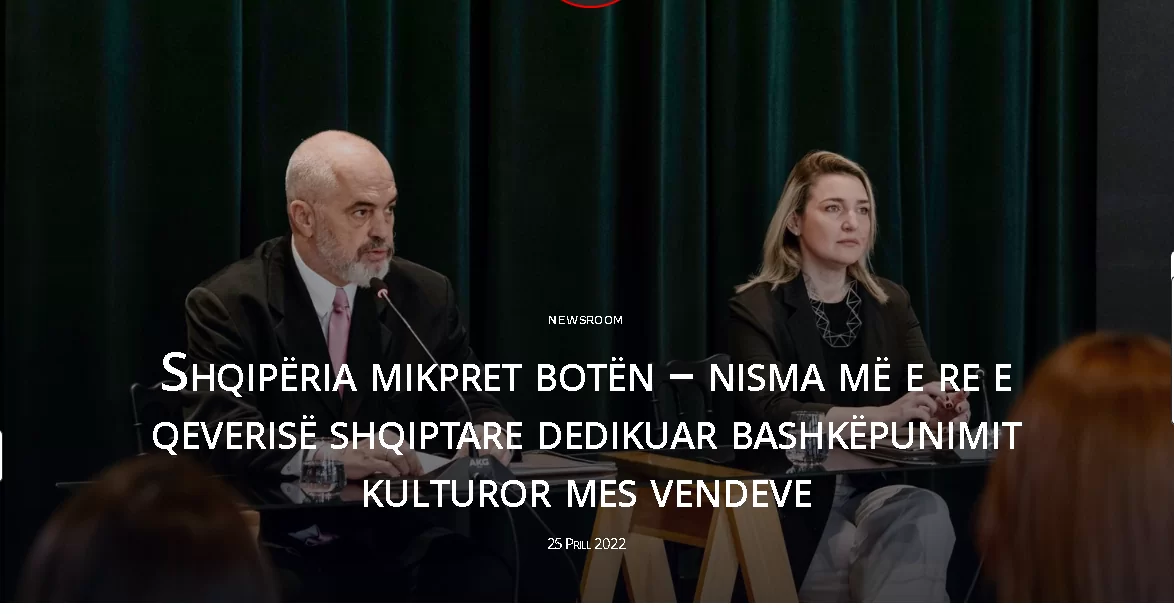 ALBANIA WELCOMES THE WORLD – ALBANIAN GOVERNMENT'S NEWEST INITIATIVE DEDICATED TO CULTURAL COOPERATION BETWEEN COUNTRIES/25 Apr 2022
The decision has entered into force on 1st of May, while the temporary facilitation of procedures for arrival of tourists in Albania from specific countries is a tradition of several years. However, the President Volodymyr Zelensky didn't hesitate from calling on the Albanian government to limit the influx of Russian tourists.
"I urge you to close the ports to Russian ships, I urge you to restrict the arrival of tourists. "You can't know who is coming to rest in Albania, he could be a Bucha assassin or a Mariupol executioner,": – said Zelensky on 3 May  2022.
Tatyana Bajraktari, a Ukrainian citizen living in Albania and working as a tour operator for years, chose not to comment on the request of the Ukrainian President about restricting Russian tourists in Albania.
"As far as this case is concerned, no comment"- said Tatyana for Faktoje.
However, she added that there are no plans for this season as for the arrival of tourist charters from Russia. Agencies have cancelled all bookings made with Russian tour operators. Before the starting of war in Ukraine, travel agencies had planned 20 planes a week to arrive in Albania during the summer season with tourists from Russia, Ukraine and Belarus.
Rrahman Kasa, President of the Albanian Tourist Union told Faktoje that this year, unlike other seasons, operators have not signed any contract for the arrival of Russian tourists.
"Even if any tourists will come from Russia, it will be arranged individually. "They book directly with the hotel, while for years it has been a charter per week." – he emphasized.
What is the role of Russians in Albanian tourism?
Based on the data received by Faktoje from the Institute of Statistics, in the last five years Albania has been visited by 100,303 Russian tourists. Last year, 36,475 Russians entered Albania out of a total of 5.6 million foreign citizens. May-September period is undoubtedly the one with the highest number.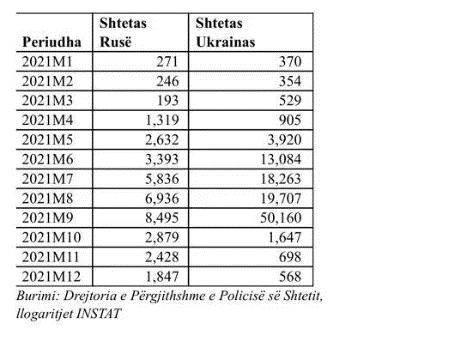 Source: General Directorate of Police, Instat statistics
Even in the first three months of the current year, 1311 Russians have visited Albania and this number is almost twice as many as the same period a year ago.

Source: General Directorate of Police, Instat statistics
Therefore, based on such data, the President of Tourism Association, Mr. Zak Topuzi says that the decision to restrict the arrival of Russian tourists in Albania shall not be a problem for the sector that has had the strongest blows from the pandemic in the last two years.
"Russian-speaking tourists in Albania represent 2% or 2.3% of the total and together with Ukraine, Belarus they are estimated at approximately 120 thousand tourists a year; in this respect, Albania loses nothing if supports the European policies from not accepting Russian tourists. I believe that government should undertake such an initiative for Ukraine "- said Topuzi for Faktoje.
Rrahman Kasa of the Albanian Tourist Union shares the same position.
"Russian tourists coming to Albania are on average about 25-30 thousand per year, which makes it a negligible figure. There is not any huge demand from such market. Although from May 1 to the end of October they can enter with no visas. "I think that our policy should be in line with the European direction." he states.
While Faktoje addressed a request for information to the Media and Information Agency regarding the request of President Volodymyr to ban the arrival of Russian tourists, Prime Minister Edi Rama answered to the journalists' interest in this matter by explaining:
"Our decisions are aligned with European Union. There is no aligned EU decision and as long as there is no European Union aligned decision, we have simply followed the same path as in previous years. "In case that there is an aligned decision, we will immediately align our decision with that of the European Union."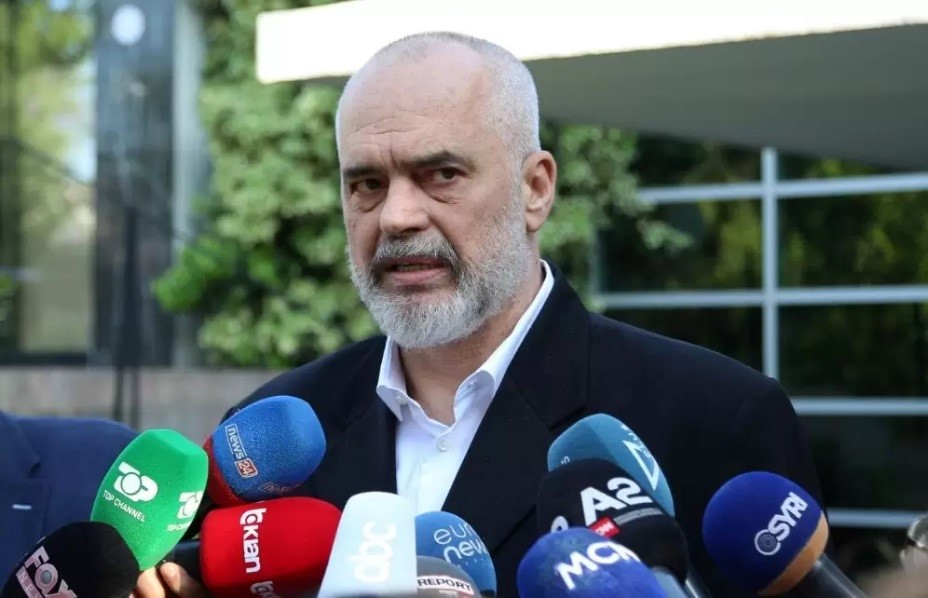 Edi Rama, after the meeting of SP leadership, 4 May 2022
A day later, Media and Information Agency provided us with the same answer.
Emphasising that Albania is in line with the European Union and as long as EU does not have a unified position and there is no requirement for alignment of criteria, procedures, documentation for entry, stay and treatment of foreigners (tourists), our country will continue to be open to tourists as in previous years."- wrote MIA in the email for Faktoje.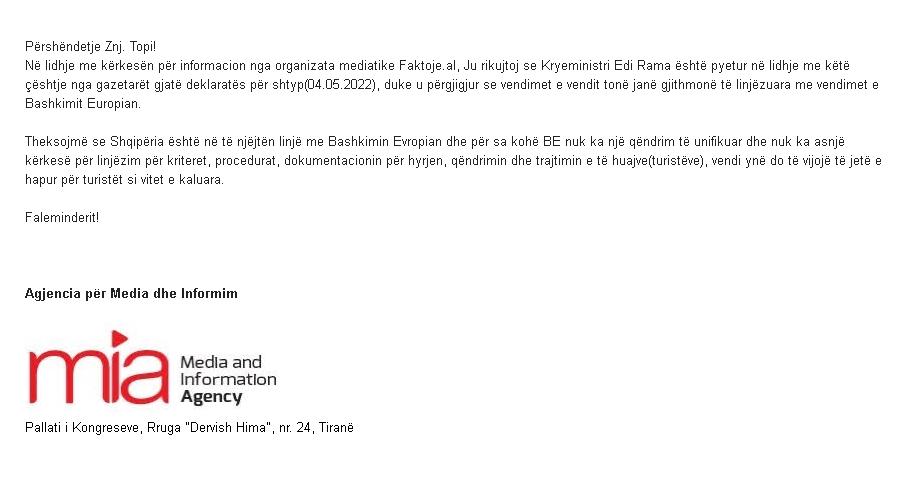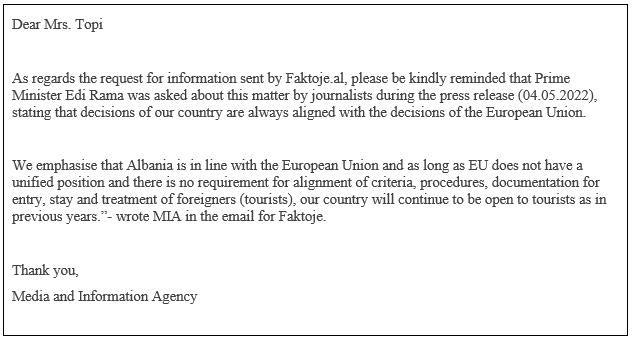 Until the European Union comes up with such a decision, Russians can come to Albania for tourism purposes without bureaucracies, while Russia has a strict visa program for most countries, including Albania.